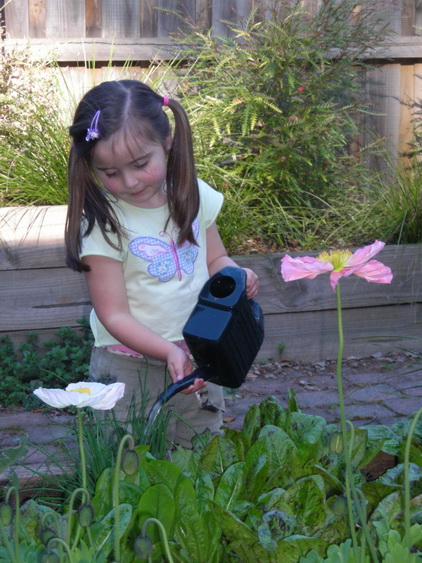 Littlies love playing with water so make it useful to your garden too. Don't bother with toy watering cans - get one that suits their size but that you can use too.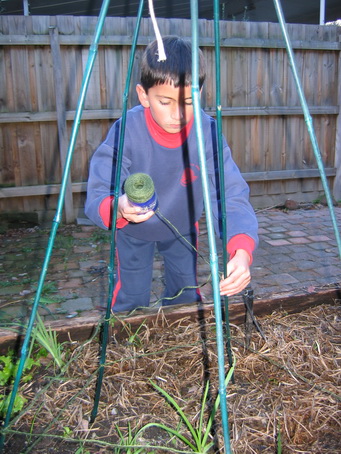 A few bamboo stakes, a ball of twine and a few seeds and you're ready to get growing a teepee. Use beans seeds or pea seeds for faster results.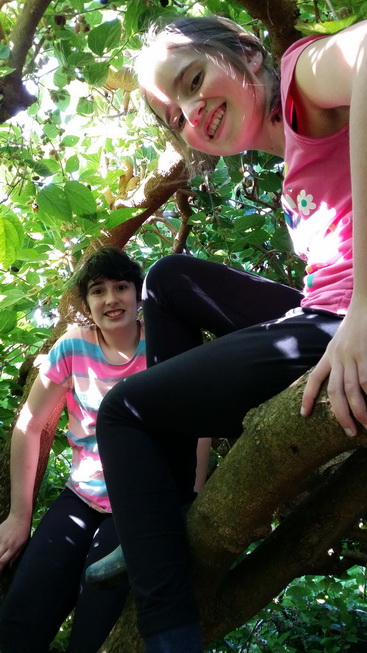 Climb a tree for hand-eye coordination, spatial awareness, confidence - or just for fun!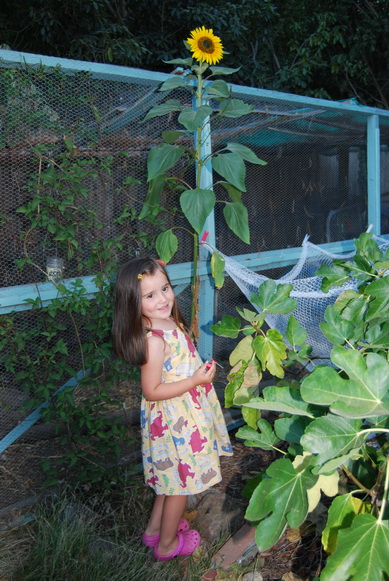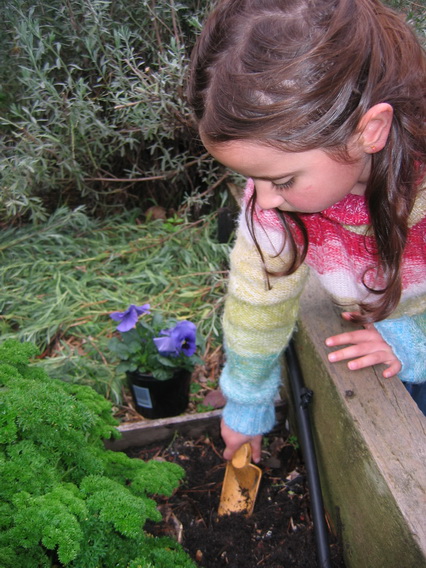 Giving your child their own patch needn't be a huge area in the garden, but it does need to be accessible and contain some decent soil.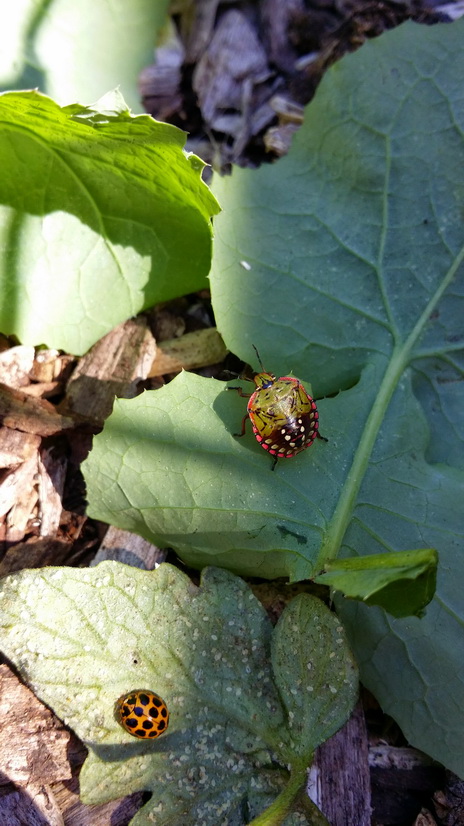 Life in 3D means actual real live insects might be seen in the garden. Are they friends or foe? The researcher child can identify the bugs by loads of online help and sort out the role these insects play in the garden.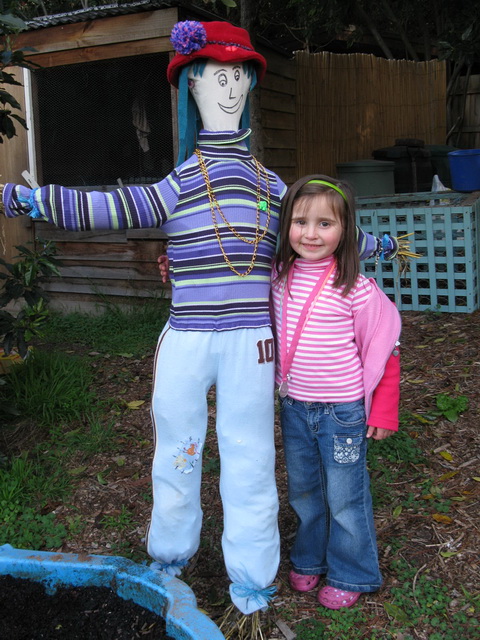 Up-cycle old clothes and plastic bags for stuffing to make a scarecrow - guaranteed not to scare the birds. You'll need a wooden stake and the rest is made of 'waste' materials.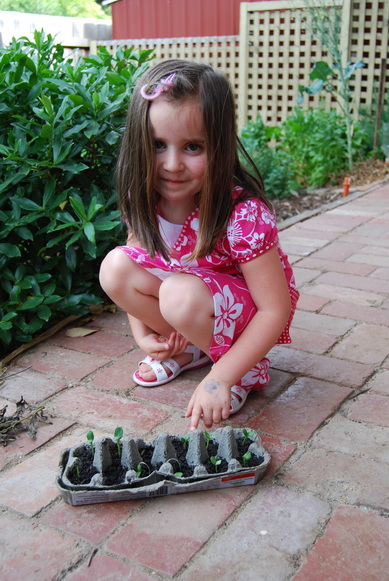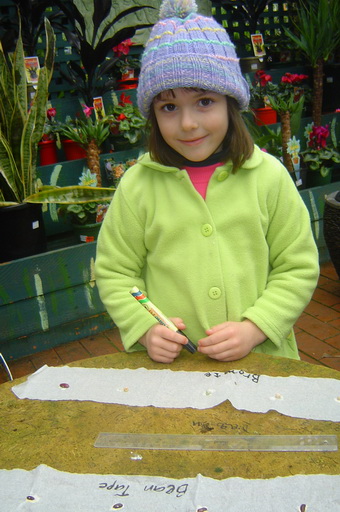 Make the activity age appropriate or lend a hand if it's just a bit too difficult. But let them try before you take over.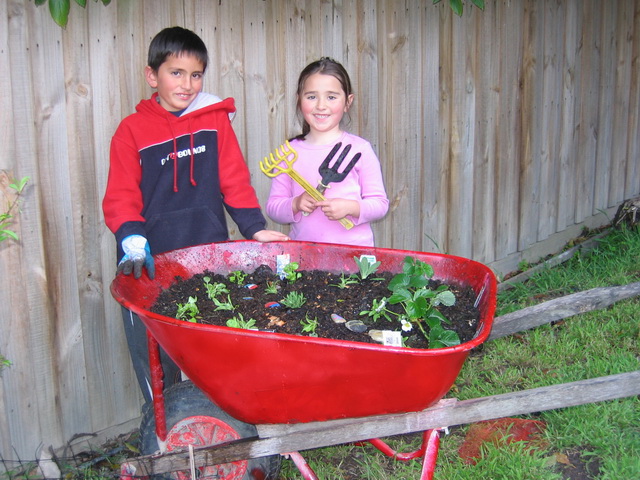 Re-purpose an old wheelbarrow as a planter. As long as it has drainage holes, it can be used. A lick of paint will give it a new lease of life.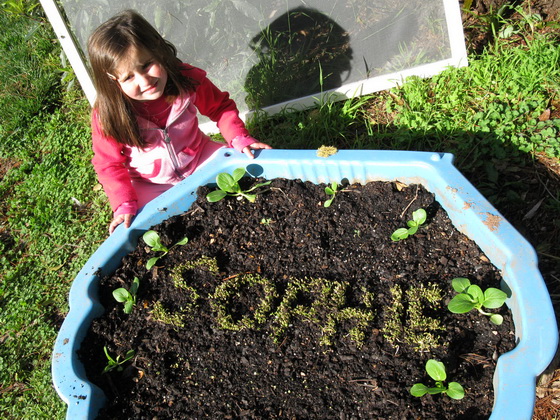 Shallow 'pots', like this clam shell that had holes in it, are great for shallow rooted vegies, such as Bok Choy and sprouts. Sophie had her name growing in sprouts only a few days after the seeds went down.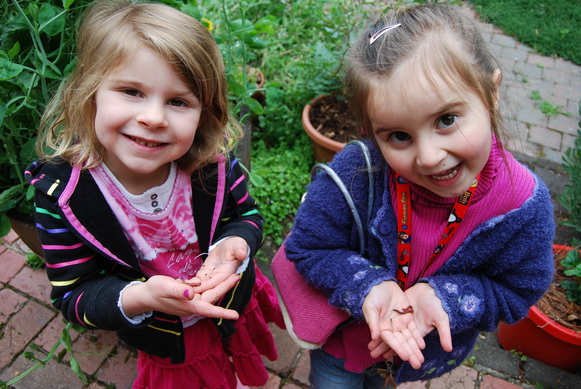 Not all kids are happy to handle worms but they can all learn to respect the wonderful role they play in recycling food scraps into food for the garden. If you would like to set up your own worm farm, click here for more details.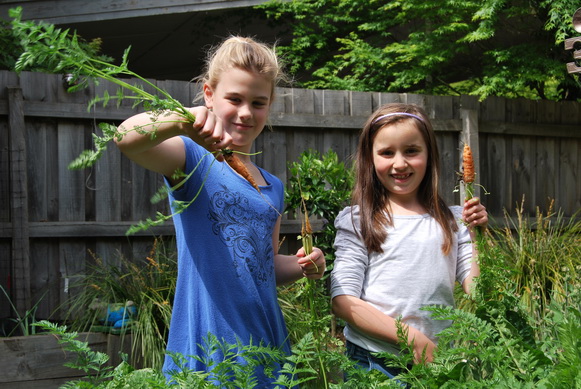 Carrots seem to be a favourite with children and pulling them up brings awe to their faces. Don't make the mistake of growing them from seedlings as they'll grow arms and legs as well!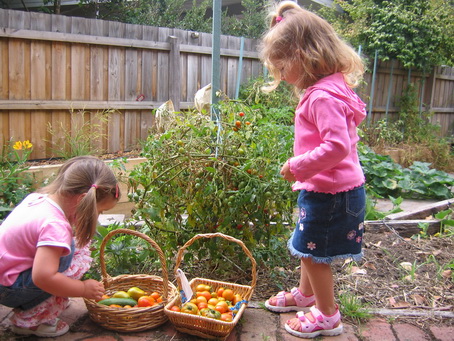 Even if they had nothing to do with the planting, a little basket is all that is needed when little ones go out to pick some cherry tomatoes. And if they do get enthusiastic and pick ones not quite ripe, don't worry as they should ripen after picking.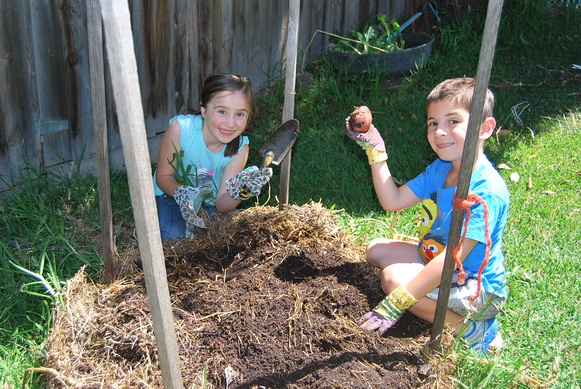 Kids (and adults!) get a buzz when they dig for potatoes. If you don't have much space, you can grow a potato tower. Click here for details.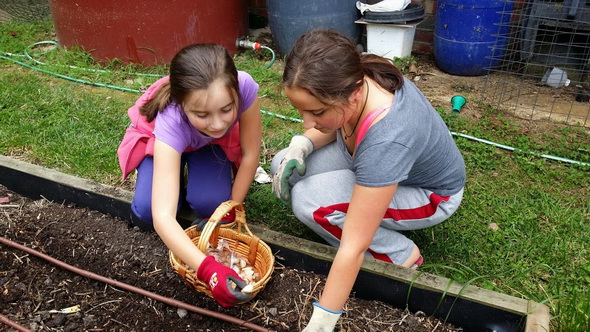 When you feel they are able enough, you can get them to do some real 'work' in the garden, by helping plant out actual plants that are needed in the vegie patch or other. Here the girls are spacing and then planting the garlic for the season. Click here for how to grow great garlic.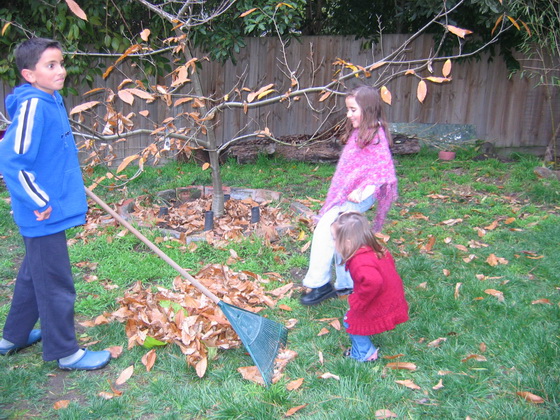 Autumn is such a great time to be in the garden and raking up leaves is something that most age groups can do to one extent or another. Kicking up the raked leaves is a specialty of little ones!