If you don't grow your own, you can use frozen berries to make jam.
All fruits need to be pre-softened before adding sugar to make jam but berry jams are some of the easier ones to make as the fruit is already soft. 

HINTS for making Jams
Use a large shallow saucepan for quicker setting of jams. Make sure the pan is no more than 60% full as the jam will be boiling and may overflow.


Best results come from making small batches at a time. Do not use more than 2 kg at a time of combined fruit and sugar. A shorter cooking time will result in better texture, appearance and importantly, flavour.


You can use up to 25% LESS sugar than recipes stipulate but keep in mind that the sugar acts as a preservative as well as a gelling agent, so your jam will be less firm than commercial ones and refrigeration will be necessary once opened. If you want to use even less sugar, add PECTIN to help set the jam.
You will need:
500g frozen berries (such as raspberries, boysenberries, strawberries, blueberries; or any mixture of these).
500g sugar (or no less than 375g)
¼ cup lemon juice (reserve the pips from the lemons)
Method:
1. Combine the frozen berries in a large, shallow saucepan with the sugar and stand for one hour for the berries to defrost.
2. Put mixture over medium heat and stir constantly with a wooden spoon until the sugar is dissolved. Make sure every last grain of sugar has dissolved, from the sides of the pan as well as the back of the spoon.
3. Tie the lemon pips firmly in a muslin pouch and add this to the saucepan along with the lemon juice. 
4. Increase heat and boil rapidly, uncovered, until the liquid is reduced and the jam is thick. This should be around 15 minutes (see Note below) but it will depend on quantities used and the depth of the fruit/sugar.
5. Remove jam from heat to test for setting (gelling)  point on a cold saucer.
Jam will not form a firm jelly but will be thick and fruity.
Once gelling point is reached, transfer into hot sterilised jars, seal with clean lids and then invert for 2 minutes to help provide a vacuum seal. Makes about 625ml.
NOTE: Fruits that have been frozen when ripe have a lower pectin content than fresh berries. This means that your setting point for the jam may take a little longer, or you may choose to add powdered pectin when making the jam.
Test for set by placing some jam on a cold saucer.
If the cooled mix stays apart, it is set and ready to bottle.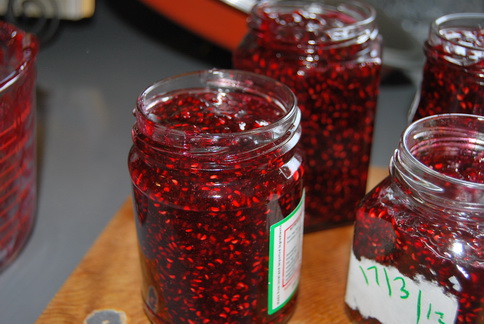 Place jam in sterilised jars.
And don't forget the washing up before it sets too hard!