All classes and workshops are developed according to the needs of the groups.
They generally go for 1 to up to 3 hours on weekends and quotes are provided for the materials used. Notes are sent to the organisation to photocopy for the class or workshop. Gardening sustainably using organic principles are always the basis of each gardening presentation.
Topics presented regularly include:
GROW YOUR OWN, EAT YOUR OWN Series
- Grow Your Own, Eat Your Own -  Vegie Gardening for Beginners Topics: Soil basics and its improvement; Vegie patch types, incl. No-Dig; Pots; Easiest herbs and vegies to grow; Simple pest control techniques.

- Grow Your Own, Eat Your Own - Vegetable Gardening Beyond the Basics Topics: Soil rejuvenation; Crop rotation principles; FAQ's about specific vegies; Seed sowing techniques.

- Grow Your Own, Eat Your Own Goodness A general covering of growing seasonal things to eat, with specifics on different vegies and how to cook them.

- Grow Your Own, Eat Your Own - Planning for the Summer Bounty Topics: Getting ready for summer in the vegie patch; Choosing the right seasonal vegies; Starting summer vegies from seed. This class is best run at the end of winter and early spring.

- Grow Your Own, Eat Your Own - Planning for Autumn Planting Topics: Crop rotation after summer vegies; Soil rejuvenation; A close look at the myriad of vegies that can be grown over the cooler months. It's best to start in Autumn so we cover what you need to know and how to do it.

- Grow Your Own - Thrifty Gardening This shows you how you can get away with not spending a fortune on your garden, by utilising things you may already have and learning some clever techniques to save money. Topics: Potting mixes; pest control, fertilisers, seed sowing, seasonal plant propagation; 'nanna-technology' or re-purposing household objects for use in the garden.

- Grow Your Own - Sow Your Own (Growing from Seed) We cover many different seed growing techniques
for growing vegies in a bit of depth and a lot of hands-on.

- Seed Saving and Sowing combines  the how, when and which seeds to save and store; and then the sowing of those. 
The following gardening workshops also include cooking and a shared meal:

- Grow Your Own, Eat Your Own - Italian Style Be introduced to vegies that Italians take for granted and delicious ways of preparing a meal with them. Globe artichokes, asparagus and broad beans are covered in early spring; green leafy vegies are covered over winter. In summer, eggplants, zucchini and tomatoes are flavoured with a Mediterranean touch.

- Grow Your Own, Eat Your Own - Asian Vegies Know the difference between your pak choi and your choy sum in this class and how easy it is to grow these healthy vegetables.

- Grow Your Own, Eat Your Own - Hearty Soups Cook up a storm in the class with some delicious and healthy winter soups using seasonal vegies, as well as tips on how to grow them well.
OTHER POPULAR SUSTAINABLE GARDENING TOPICS INCLUDE
- Keeping Backyard Chooks - a beginner's guide on how to get started and then keep healthy chooks as part of a sustainable household.

- Composting Success - and other methods of household waste recycling to get your carbon footprint down, including Bokashi buckets.

- Worm Farming - DIY workshop using recycled materials to make your own low cost worm farm.

- Soil Health - Healthy soil is the basis for healthy plants. Some basic soil science and improvement techniques are included in this class.

- Safer Pest Control in the Vegie Patch. Learning ways to keep those pesky pests under control and how to invite the good ones in. It's not about spraying!

- Seed Saving - the Basics with some hands on action

- Winter Fruit Tree Maintenance Not just pruning, winter is a time to get the summer pest problems under control.
PRESERVING workshops are a natural extension to growing food and then coping with the glut! These are also fun for the participants as they are mainly hands-on AND people get to take home the fruits of their labours.
- Safe Preserving Basics  This can be done as a presentation with some demonstration showing how to safely preserves fruits and vegetables; or depending on numbers and facilities available, as a more hands-on workshop.

- Preserving the Summer Bounty  Jams, pickles, sauces and bottled fruits using seasonal produce.

- Olive Magic  Transforming the bitter fruit of the olive tree into a delectable delight.

- Tomatoes Every which way! We cover and make passata, peeled tomatoes, sauces, chutneys and pasta sauces

- Christmas Preserves Different preserving techniques are incorporated into festive preserves, to take home and enjoy or as appreciated 'foodie' gifts


SPECIALIST COOKING workshops and demonstrations give people the confidence to try traditional culinary arts themselves.
- Artisan Pasta The classic egg-pasta and vegetable-based versions are made and taken home to turn into delicious meals.
- Filled Pasta Learn how to make a basic dough and then raise it to new culinary heights by transforming into ravioli with different fillings.
- Pizza Pizazz! Get the confidence to work with yeast based doughs to prepare the base of great pizzas. We cook and eat together.
FESTIVAL DEMONSTRATIONS AND WORKSHOPS
My Green Garden can attend festivals with hands-on activities for children as well as short demonstrations and talks for adults.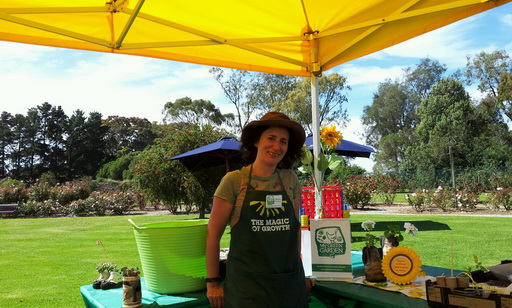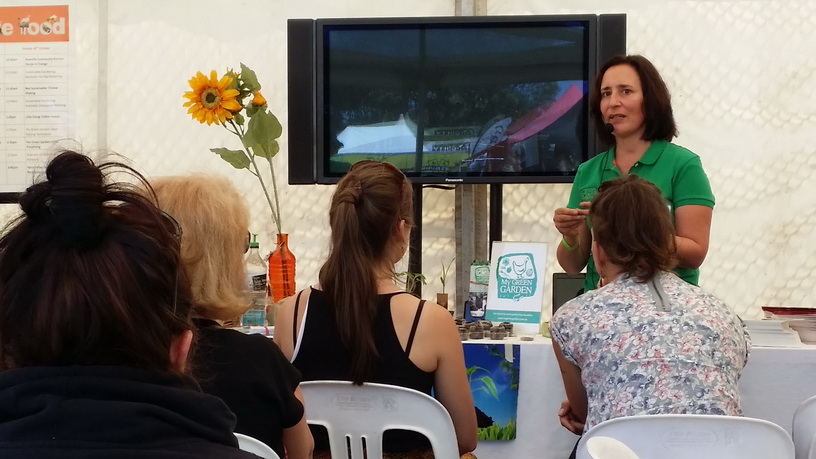 Recognising the wonderful work that not-for-profit community groups do on a shoestring budget, costs are negotiable, depending on your needs and means.
Please contact My Green Garden with any queries for how it can help your organisation.
To view participant feedback from presentations, please click here
I have had the pleasure of hosting Maria's garden workshops for two Councils over the past four years and I couldn't recommend her more highly. She is engaging, incredibly knowledgeable, very well organised making it a joy to host, and everyone who attends her workshops raves about them to me for weeks afterwards. I couldn't ask for more in a presenter! An absolute treasure in the sustainability and gardening field who I recommend to all Council's wanting to engage their community in gardening and sustainability. – Sustainability Officer, Whitehorse City Council